Hi I'm Beccy Hands – yes, my surname really is Hands!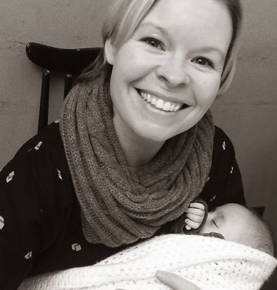 When I was a little girl, I dreamt of being a doctor, a vet, a nurse and a midwife, and so it remains something of a mystery to me how I ended up spending seven years as a TV producer, but with that glamorous if exhausting detour out of the way, I reassessed my life and retrained as a clinical soft tissue therapist (massage therapist to us, but clinically trained)
I often found myself treating pregnant women and new mums. I found the pregnant and postnatal body fascinating and I soon decided that this was where my passion lay. I then specialised in pre & postnatal soft tissue therapy, completing my training both in the UK and Thailand where I learnt more about nurturing new mums in the postnatal period from a culture where women were still observing the 40-day confinement period. This was a real turning point for me and showed me a better way of supporting new mums and has shaped the way I work today tremendously.
Over the years I have also had the honour of working under professors and midwives from all over the world including South America and North Africa, and again these learnings have helped me work in a hugely nurturing, supportive and intuitive way, that isn't necessarily taught here in the UK.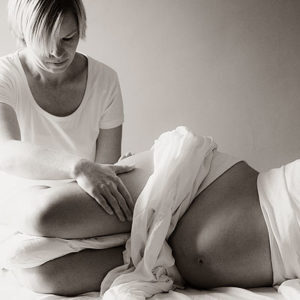 Whilst working as a pre & post-natal specialist I accidentally fell into the role of doula, as I would work with couples helping them to prepare for birth physically and would then attend births using massage for effective pain relief. The first few births I attended were amazing; gentle home births that totally blew me away. Part of my training involved teaching birth partners some easy massage techniques, and it was always a humbling privilege to watch a birth partner massage their mum-to-be and see the calming effect this gave. It was here that I saw the true beauty of birth.
That being said, attending births also taught me one very important lesson – that the only predictable thing about birth is its unpredictability. This understanding helps me to work with birthing people better, arming them with lots of advice regarding their physical wellbeing and helping them to write a banging plan A, B and C birth plan to make sure that they were ready for whatever way their baby decided to come and meet them. I truly believe that every birthing person can have a positive birth with the right support. It isn't about having 'the perfect birth', there really is no such thing. It's about having a nurturing team to listen, support and hold you so that you feel safe. With this is place, birth can be memorable for all the right reasons.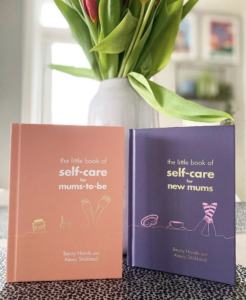 I have written two books, THE LITTLE BOOK OF SELF CARE FOR NEW MUMS and THE LITTLE BOOK OF SELF CARE FOR MUMS TO BE with my friend and Midwife Alexis Stickland and we also run a maternity gift box company together – www.themotherbox.co.uk
We also have two series of podcasts that you might find helpful – available on all podcast platforms called NOTES FROM THE MOTHER BOX. We cover lots of pre & post-natal topics over on those episodes.
I continue to work with all kinds of birthing people throughout their pregnancies, supporting their changing bodies and getting the body ready for labour with pre-natal clinical massage. I then use post-natal clinical massage therapy to help bring the body back to its natural post pregnancy state, helping mum to release physical or emotional aches and pains. I don't do as much Doula work these days as I focus on the soft tissue therapy. Instead, I teach birth partners to massage their lovely ladies themselves, so that they can be a hands-on support to them on the day and I have a brilliant list of lovely local doulas I can signpost you to.
I have worked with all birthing people in all family set ups – everyone is welcome.
Training and Qualifications: ITEC, APNT, CNHC
Holistic, Deep Tissue and Remedial Massage
Clinical Soft Tissue Therapy
Sports Massage
Thai Yoga Massage – Thailand
Thai Soft Tissue Massage – oil based and traction work
Thai Postnatal Care – Massage and ward-based care
Pregnancy and Labour Massage – Suzanne Yates, Well Mother
Touch-Pro Event Based Acupressure Massage
Paramana Doula Training with Michel Odent and Liliana Lammers
Rebozo Training with Stacia Smales Hill
Fascial Release Therapy
North African Postnatal Care Methods – CPD
Pelvic Pain Rehab – for Menstrual Pain, Endometriosis, Bladder Pain Syndrome and  Vulvodynia – training with Michelle Lyons
Ward Based 'Maternity Support' work experience on the labour ward at Kings College Hospital